The archaeologists working with the frozen past have their own journal called "Journal of Glacial Archaeology". It was published for the first time in 2014, and contained papers on e.g. Bronze Age Arrows from Oppdal, Norway and inca mummies from mountaintops in the Andes. The second volume is out now. Here we can find interesting papers from Norway, Switzerland and USA.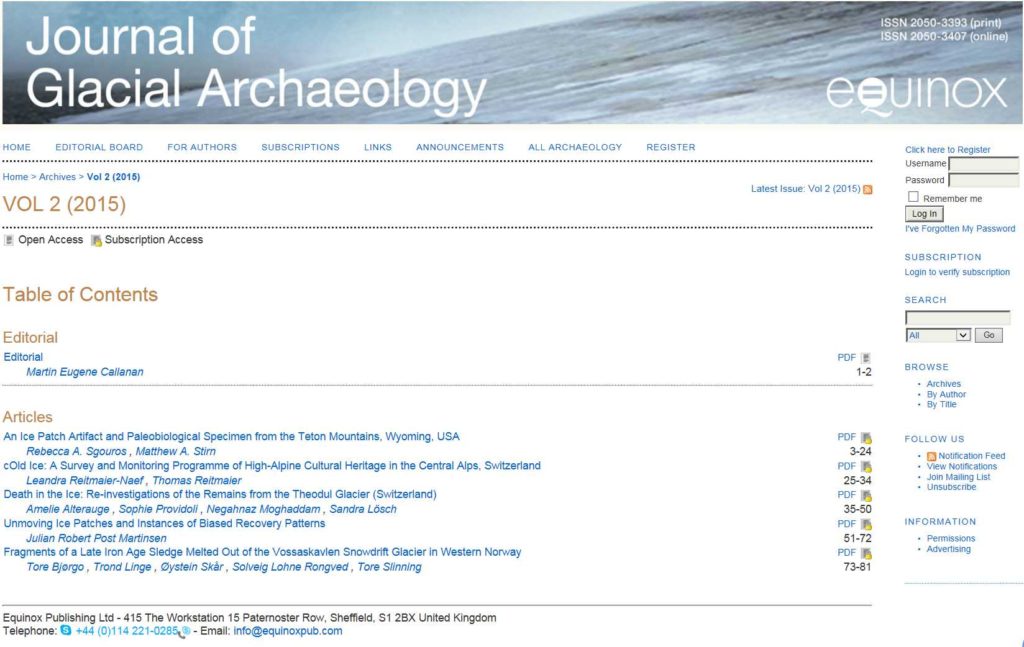 Archaeologists from Bergen write about the find of what is likely an Iron Age sledge from the Vosseskavlen ice patch. The same ice patch has released two medieval skis previously.
The relationship between the finds and the ice is still not well understood. The Norwegian archaeologist Julian Martinsen, who is also involved in the glacier arckaeology of Oppland, analyses how natural processes in the ice patches may influence the artefacts, recovered by archaeologists.
There are two papers on mountain passes in Switzerland. One of the papers describes how ancient mountain passes may be located using computer-based analysis of the terrain. The other paper is on the re-analysis of the skeletal remains from the Theodul pass i Wallis, found in the 1980ies and -90ies, and dated to c. AD 1600.
The last paper is on a new glacial archaeology project in the Teton Mountains in Wyoming, USA.
The new volume can be found here: https://journals.equinoxpub.com/index.php/JGA/issue/view/2138